COSRX Full Fit Propolis Synergy Pad 코스알엑스 풀핏 프로폴리스 시너지 패드
COSRX Full Fit Propolis Synergy Pad 70 Pads
코스알엑스 풀 핏 프로폴리스 시너지 패드 70매입
Propolis-lovers: This is your wish come true!
What it is: Skin nourishing pad with naturally driven ingredient, 84% of Propolis extract, that will visibly change your dull skin. Full Fit Propolis Synergy Pad is the most basic and essential step of a skincare routine!
Quantity: 70 Pads

WHY IT'S SPECIAL:
You asked, we listened!
To respond to global customers' request, a daily toner pad soaked in "Full Fit Propolis Light Ampoule" has been launched! It is the simplest way to nourish your dull skin with propolis. With only a sheet of Propolis Synergy pad, you can easily moisturize and protect your dry, parched skin while wiping out makeup residue.
84% Triple Propolis Extract = Intense moisturizing effect
Containing 84% of Triple Propolis Extract that provides the benefits of both toner and serum, this toner pad is highly focused on upgraded moisturizing effect with three different kinds of propolis extract, which keeps skin hydrated up to 24 hours without leaving a greasy finish. Not only that, the patented RX-COMPLEX M strengthens the structural integrity of your skin barrier with extra moisturizing effect.

110% Bigger in size
The brand new pad is larger than the original pad and it helps to finish skincare in one swipe. Use embossed side for soft exfoliation and the smooth side to hydrate and moisturize.

How to use:
Swipe the embossing side across the face avoiding eye area after cleansing.
Swipe the softer side across the face to pick up the remaining debris.
Replace the lid tightly to make sure the pads stay wet and clean.
Propolis Extract, Butylene Glycol, Betaine, 1,2-Hexanediol, Panthenol, Allantoin, Honey Extract, Lactobionic Acid, Royal Jelly Extract, Glycerin, Water, Polyglyceryl-10 Myristate, Polyglyceryl-10 Laurate, Arginine, Xanthan Gum, Caprylic/Capric Triglyceride, Betaine Salicylate, Sodium Hyaluronate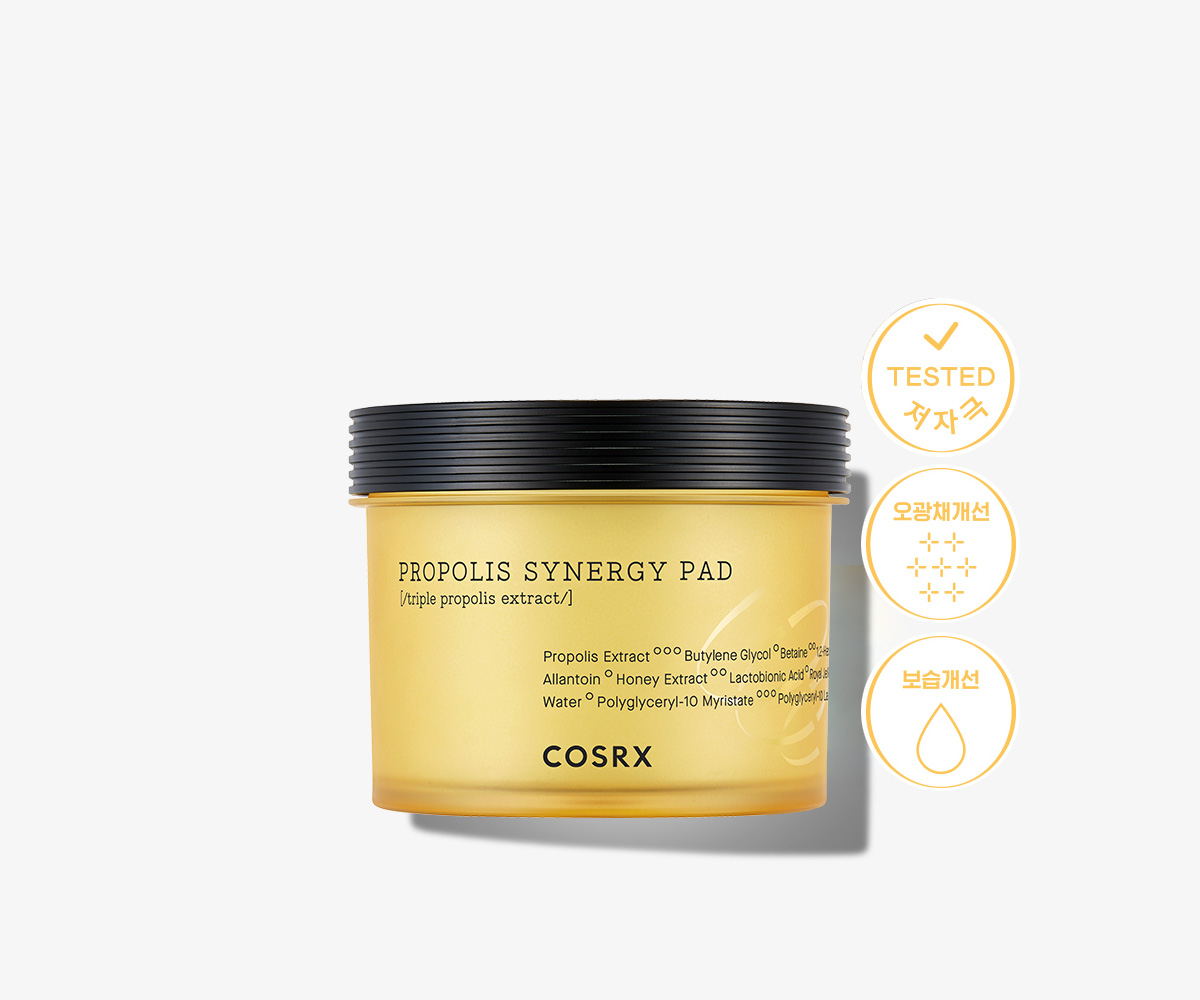 I'M YOUR SYNERGY!
빛나는 피부를 위한 보습광채 충전 프로폴리스의 놀라운 시너지

피부 보습

피부 광채

피부 영양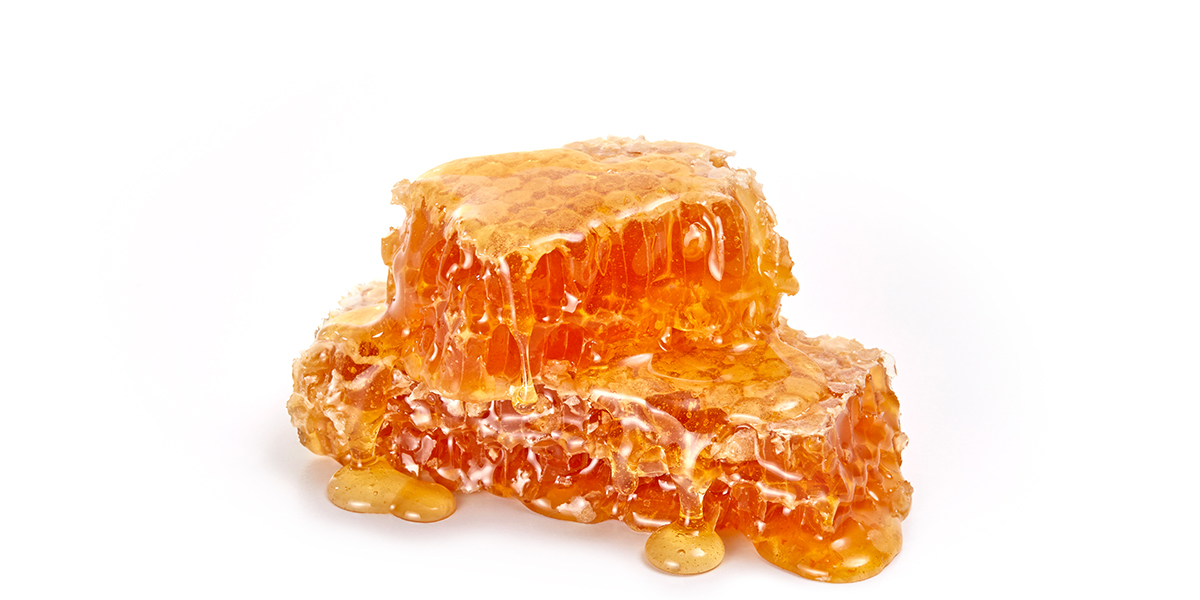 3가지 프로폴리스추출물 84% 함유
TRIPLE PROPOLIS EXTRACT* 84% 함유로 푸석한 피부에 간편하게 영양과 건강한 윤기 부여

*블랙비 프로폴리스추출물 / 레드 프로폴리스추출물 / 그린 프로폴리스추출물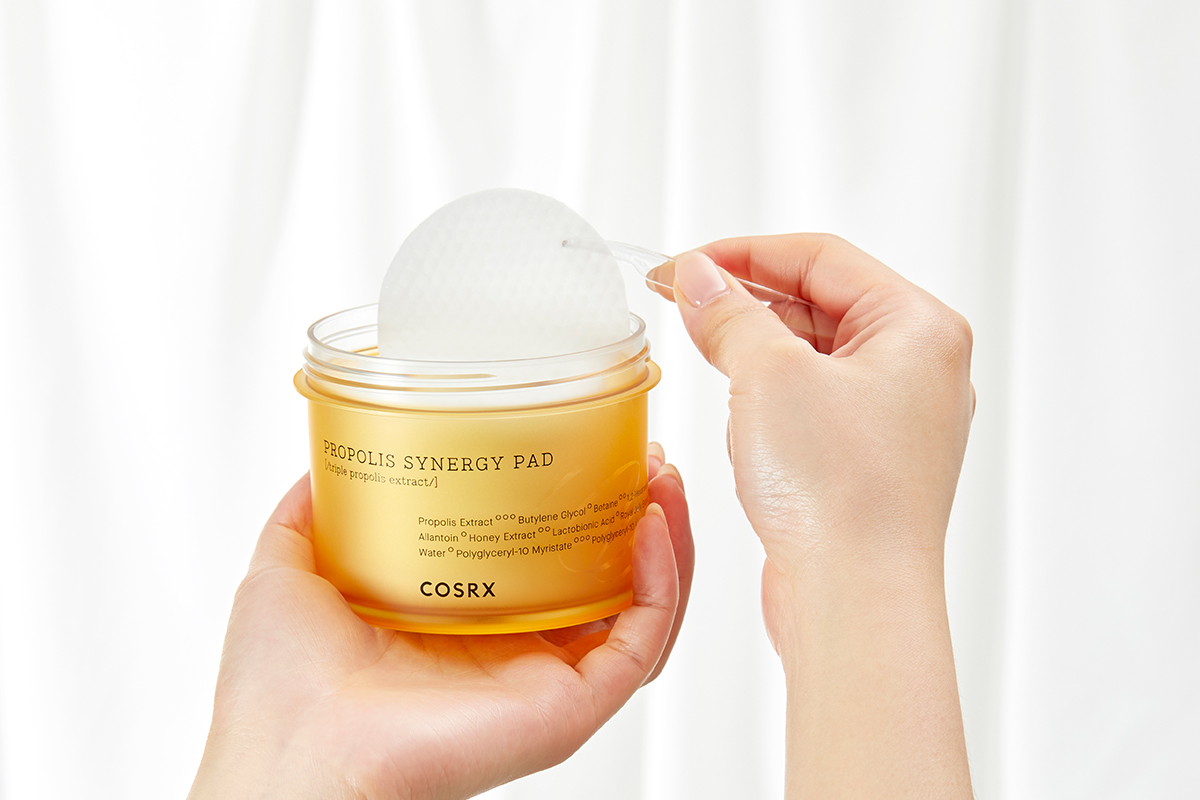 데일리 프로폴리스 산뜻 케어
프로폴리스는 겨울에만 사용한다는 생각 NO
무겁거나 끈적이지 않고 산뜻한 프로폴리스 성분으로 피부에 딱 필요한 영양과 광채 전달 !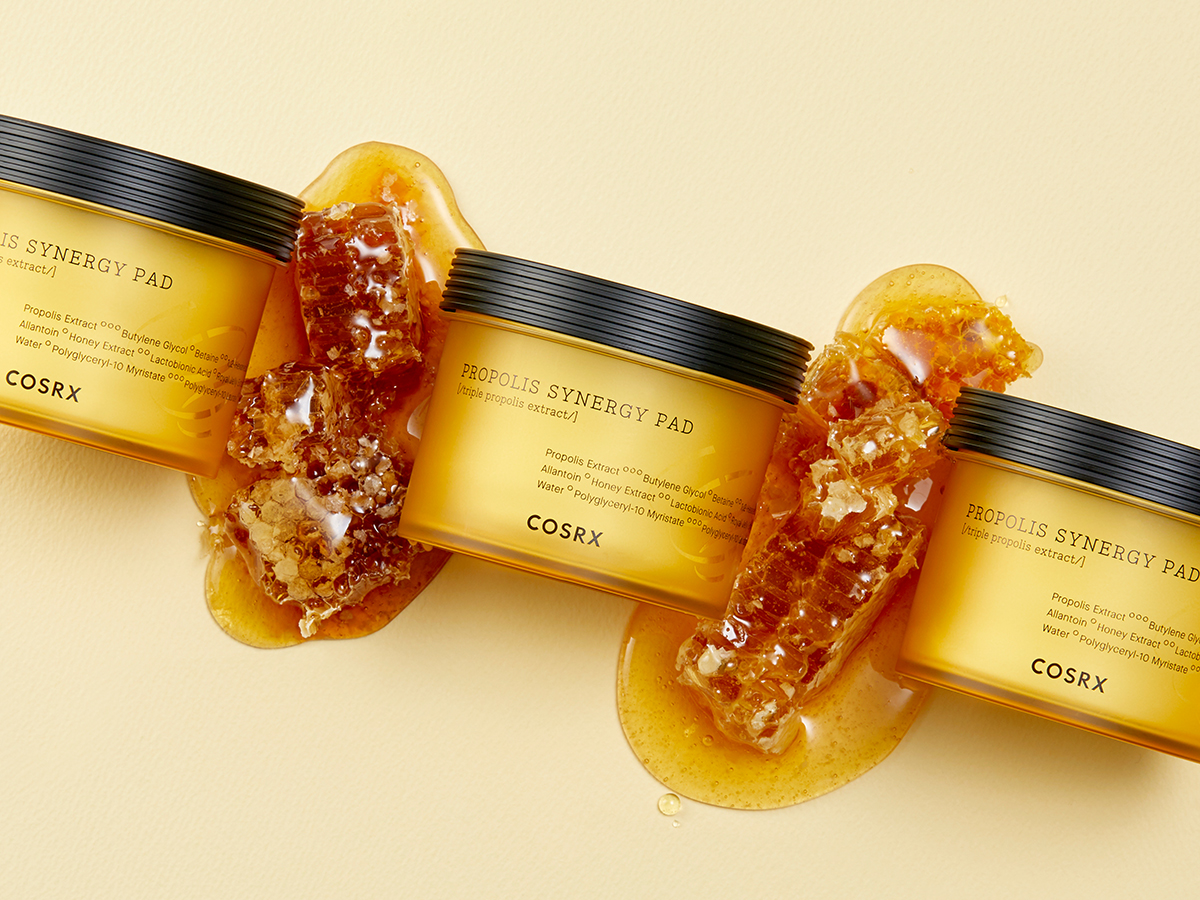 성분 및 효능 [/main ingredients/]

블랙비/레드/그린 프로폴리스추출물 피부 영양, 피부 윤기

로얄젤리추출물 피부 영양

꿀추출물 
피부결 케어

RX-COMPLEX M 
피부 보습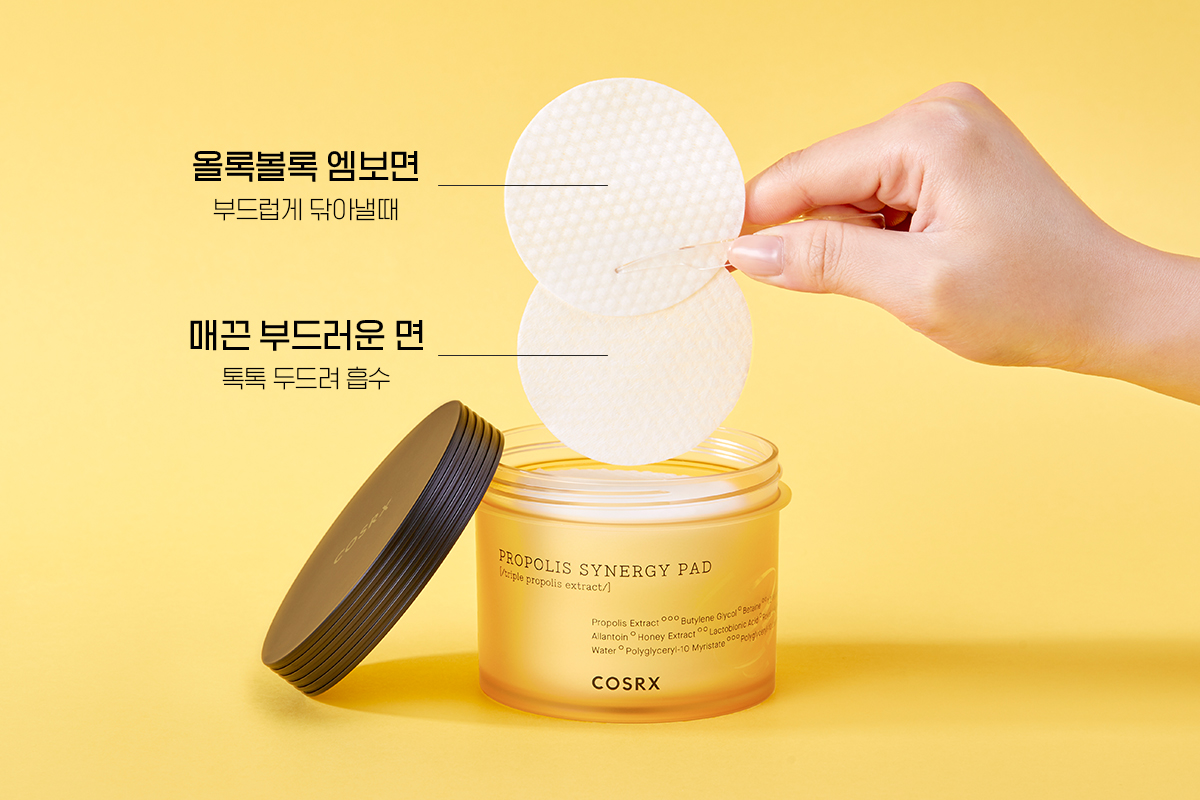 2-STEP 비건 엠보 원단
비건 엠보 원단으로 닦고 붙일 때도 부드럽게 사용
엠보싱 면으로 부드럽게 닦아내고 매끈한 면으로 톡톡 두드려 흡수시켜주세요.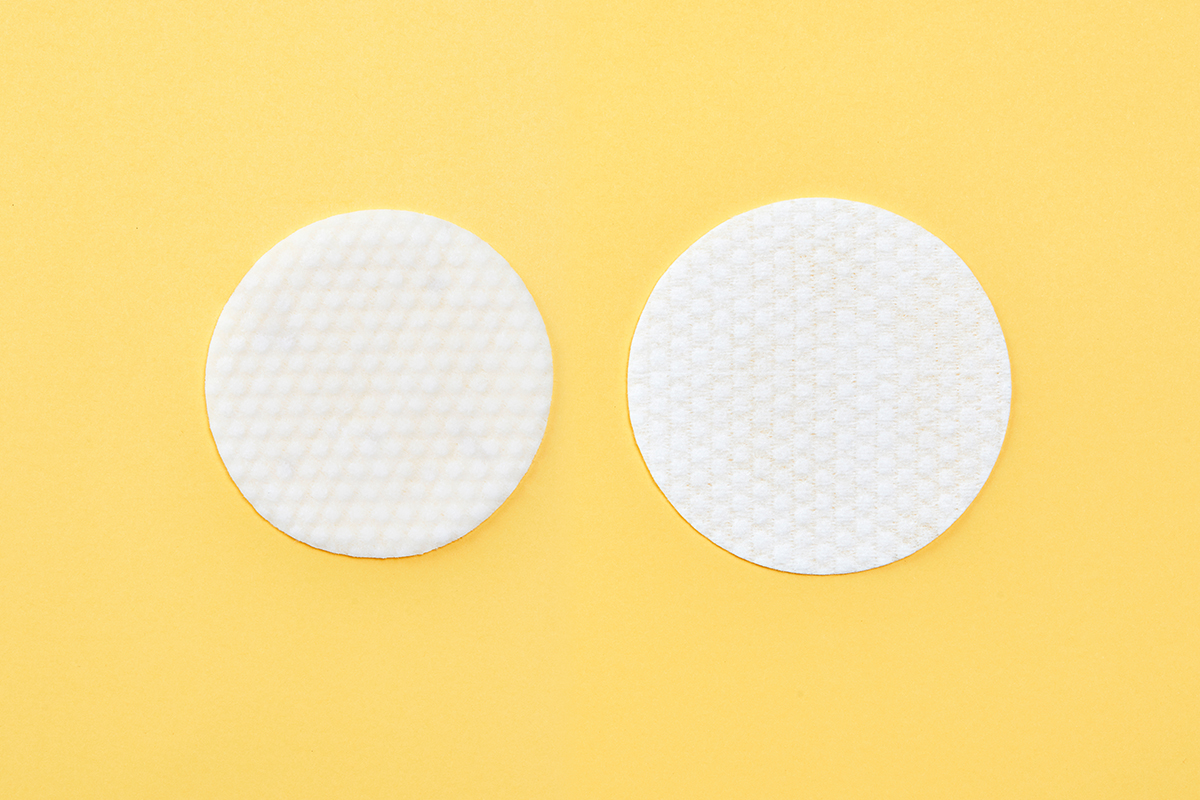 기존 코스알엑스 패드 대비 크기
110% UP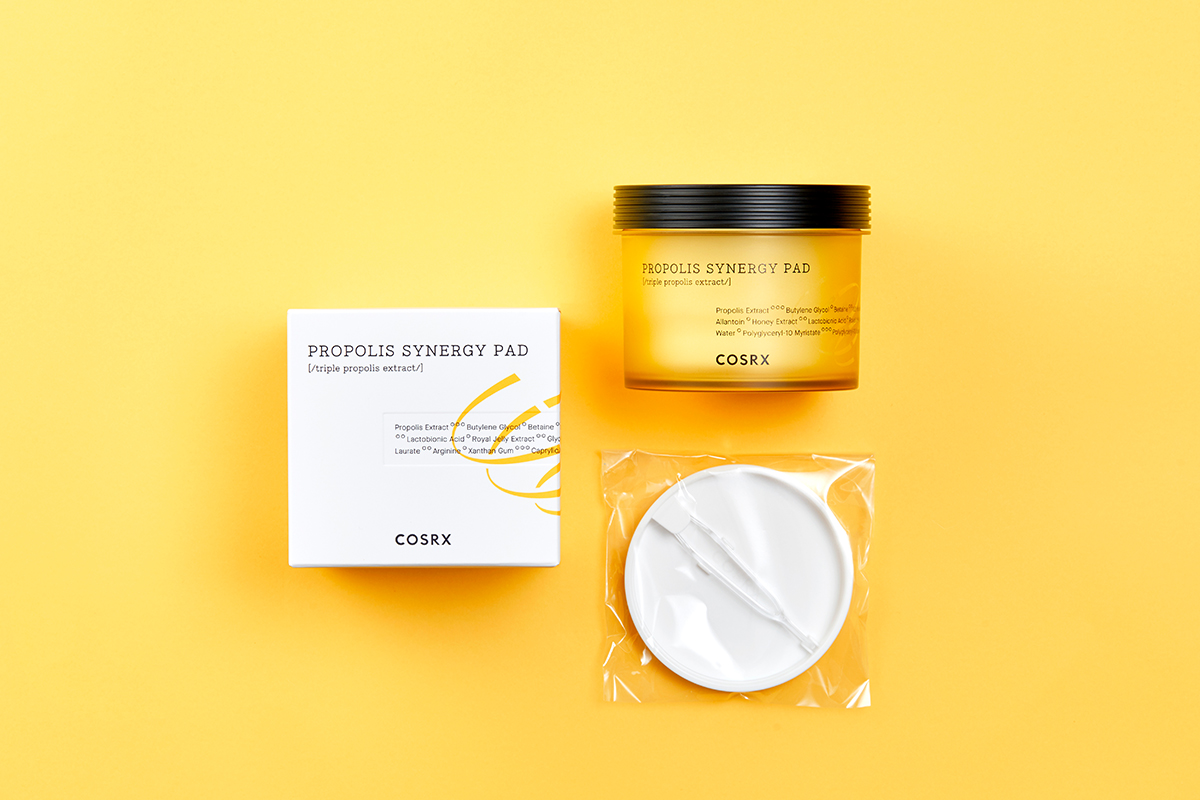 동봉된 집게로 위생적으로 한장씩 사용하세요.

5가지 피부 포인트 광채 개선 테스트
평균 개선율 27.01%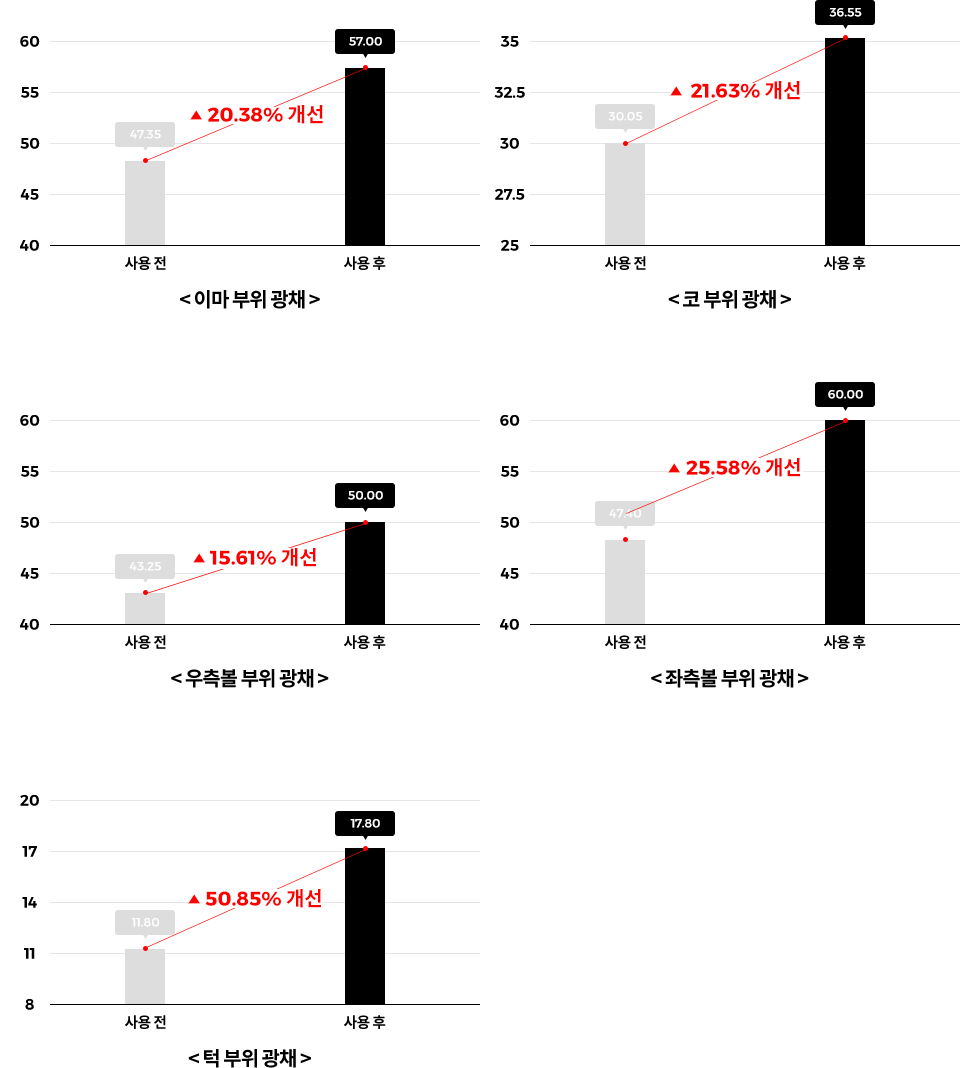 "안면부(전체)에 시험제품 사용 후 5가지 피부 포인트 광채를 측정한 결과,
제품 사용 전과 비교하여 제품 사용 후의 안면 오광채가 증가하였다."
*코스알엑스 풀핏 프로폴리스 시너지 패드 인체적용시험 보고서 발췌
외부 자극 후 보습 개선 테스트
[온풍,냉풍에 10분간 노출]

시험제품을 사용하고 온풍/냉풍 환경에 10분간 노출 후 수분량을 측정한 결과,
제품 사용 전과 비교하여 제품 사용 직후 및 온풍 환경 노출 후에 수분량이 증가하였다.
*코스알엑스 풀핏 프로폴리스 시너지 패드 인체적용시험 보고서 발췌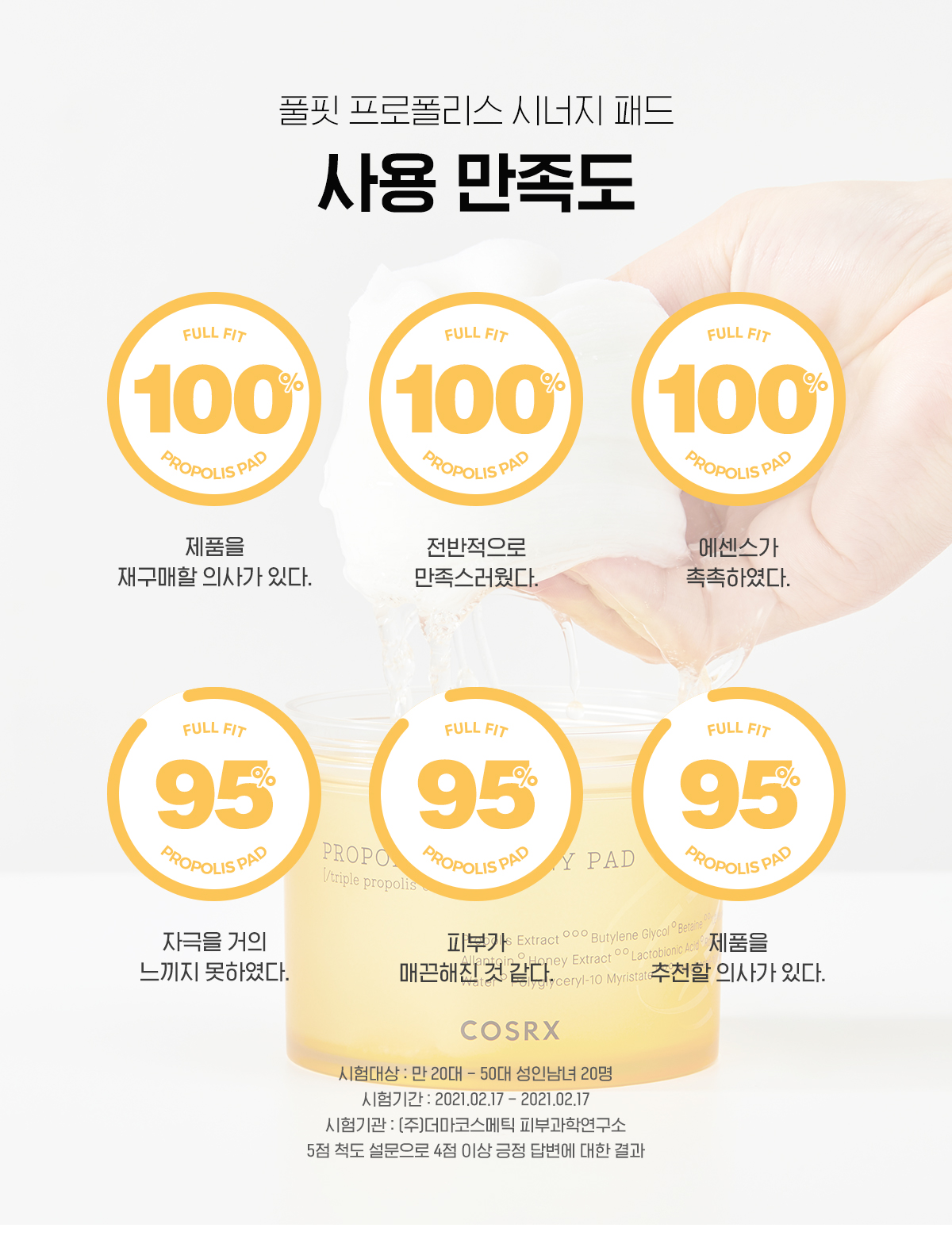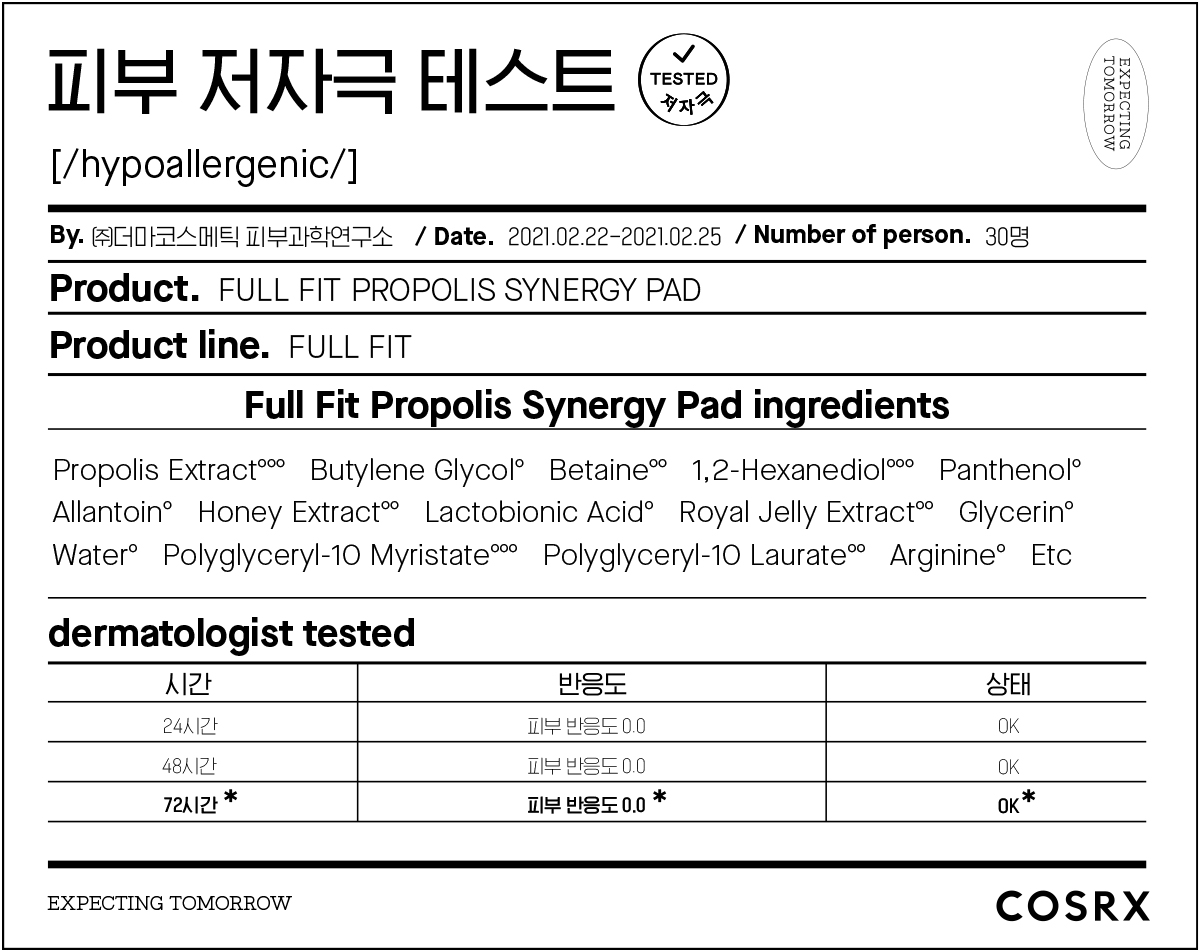 제품 사용법 [/how to use/]
1. 세안 후 엠보싱 면으로 눈가를 제외한 얼굴 전체에 피부 결 방향으로 부드럽게 닦아줍니다.

2. 패드를 반대로 뒤집어 부드러운 면으로 피부를 가볍게 두드려 내용물을 흡수시켜 줍니다.

3. 사용 후 패드가 마르지 않도록 뚜껑을 정확히 닫아 밀봉해 줍니다.
검은 벌의 건강한 에너지 풀핏으로 꿀피부 완성
[/full fit line/]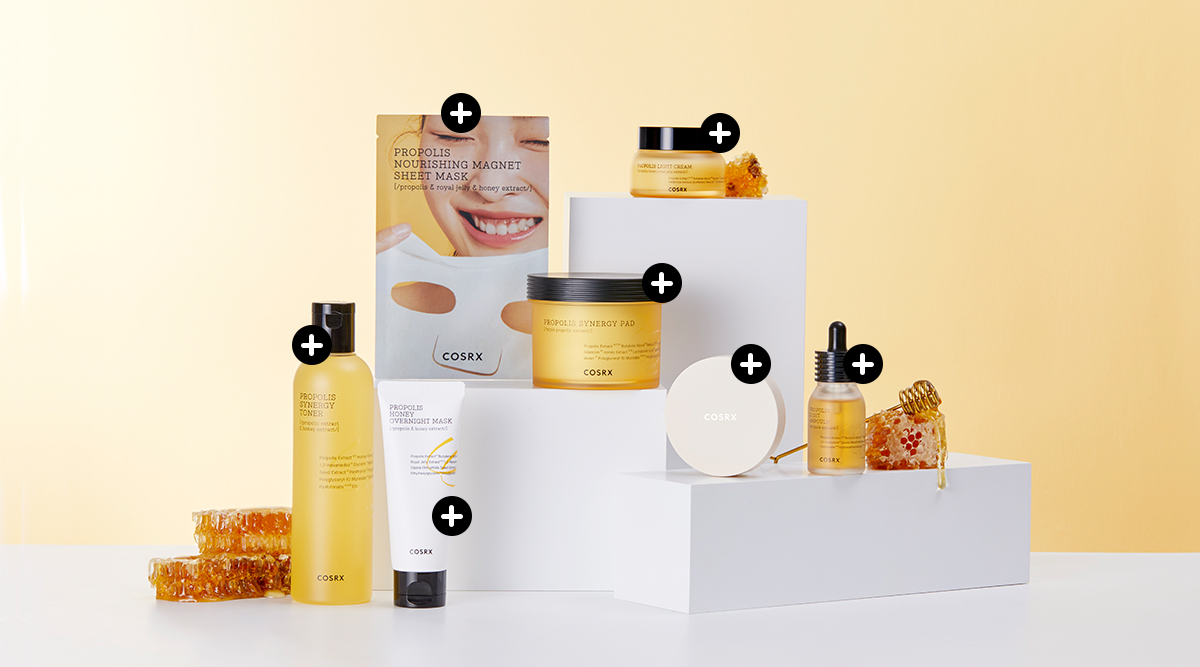 전성분 [/ingredients/]
프로폴리스추출물, 부틸렌글라이콜, 베타인, 1,2-헥산다이올, 판테놀, 알란토인, 꿀추출물, 락토바이오닉애씨드, 로얄젤리추출물, 글리세린, 정제수, 폴리글리세릴-10미리스테이트, 폴리글리세릴-10라우레이트, 알지닌, 잔탄검, 카프릴릭/카프릭트라이글리세라이드, 베타인살리실레이트, 소듐하이알루로네이트

Propolis Extract, Butylene Glycol, Betaine, 1,2-Hexanediol, Panthenol, Allantoin, Honey Extract, Lactobionic Acid, Royal Jelly Extract, Glycerin, Water, Polyglyceryl-10 Myristate, Polyglyceryl-10 Laurate, Arginine, Xanthan Gum, Caprylic/Capric Triglyceride, Betaine Salicylate, Sodium Hyaluronate