COSRX Calming Liquid Mild 코스알엑스 카밍 리퀴드 마일드 125ml
COSRX AC Collection Calming Liquid Mild 125ml
코스알엑스 AC 콜렉션 카밍 리퀴드 마일드 125ml
For clear, smoother and more healthy skin

What it is: A gentle, soothing daily toner that removes excess sebum and prevents further breakouts.
WHY IT'S SPECIAL:
CentellAC-Rx Complex
This formula not only treats acne but also helps revitalize and recover the skin without any irritation through COSRX Centella AC-Rx Complex. The calming formula includes three legendary healing ingredients--Madecassic Acid, Asiaticoside, and Asiatic acid.

Alcohol-free treatment - Total Gentle Care from Cause of Acne
Recommended for sensitive skin or anyone who wants to prevent acne or deals with acne occasionally. Made as an alcohol-free liquid, it helps the skin maintain the oil-moisture balance and calms irritation.

EWG GREEN Grade
All ingredients are approved as EWG green grade.
This mild liquid is non-comedogenic and free of fragrance, oil, silicone, and gluten. Store away from direct sunlight to prevent the liquid from turning brown.

How to use:
Soak the cotton pads and gently sweep over face avoiding the eye area.
Gently pat and absorb the rest of the liquid.
Camellia Sinensis Leaf Water, Butylene Glycol, Dimethyl Sulfone, Betaine, 1,2-Hexanediol, Betaine Salicylate, Gluconolactone, Polyglyceryl-10 Laurate, Polyglyceryl-10 Myristate, Glycerine, Panthenol, Allantoin, Arginine, Sodium Hyaluronate, Melaleuca Alternifolia (Tea Tree) Leaf Oil, Asiaticoside, Asiatic acid, Madecassic acid
에이씨 컬렉션 카밍 리퀴드 마일드
AC Collection Calming Liquid Mild
#센자극엔저자극 #소프트엔딩 #고민피부케어
센자극으로 성난 피부 순하게 잠재우는 #소프트엔딩 #AC리퀴드마일드

고민 피부 케어, 각질 케어, 피부 진정
* 코스알엑스 리퀴드 : 피부 타입에 따라 에센스 또는 토너로 활용 가능한 제형의 제품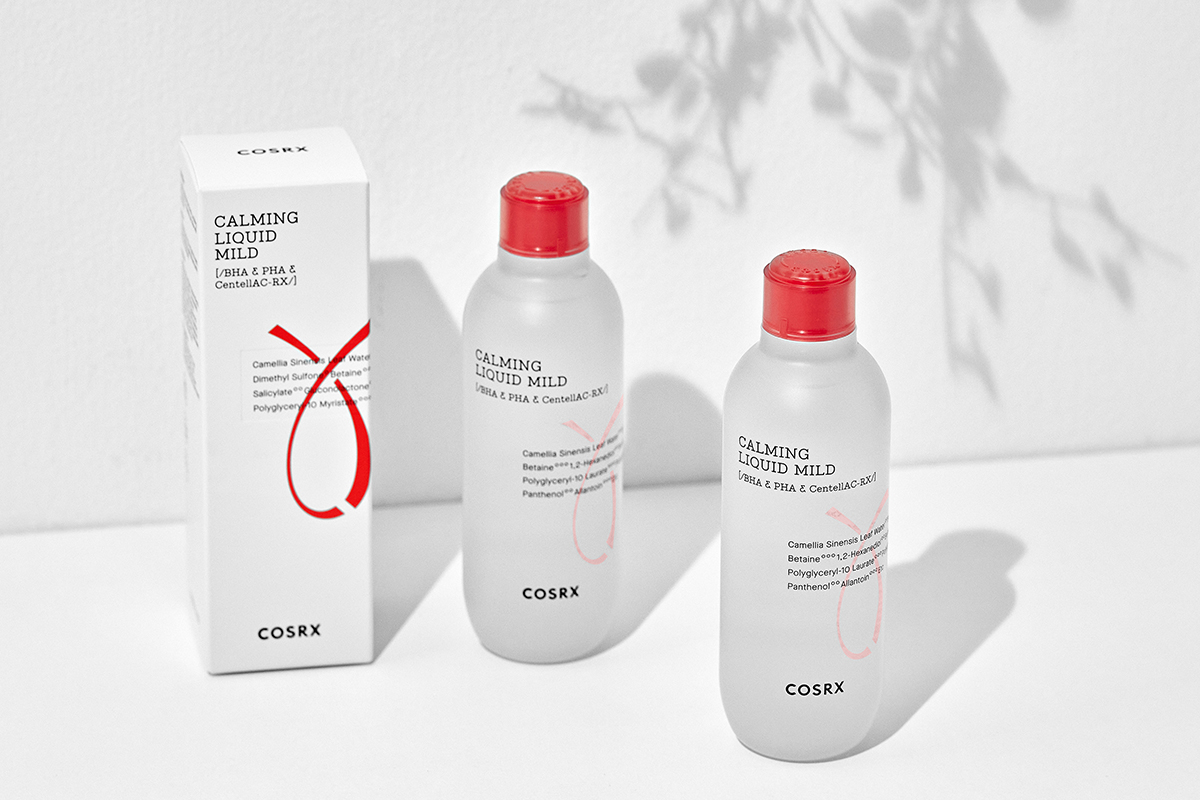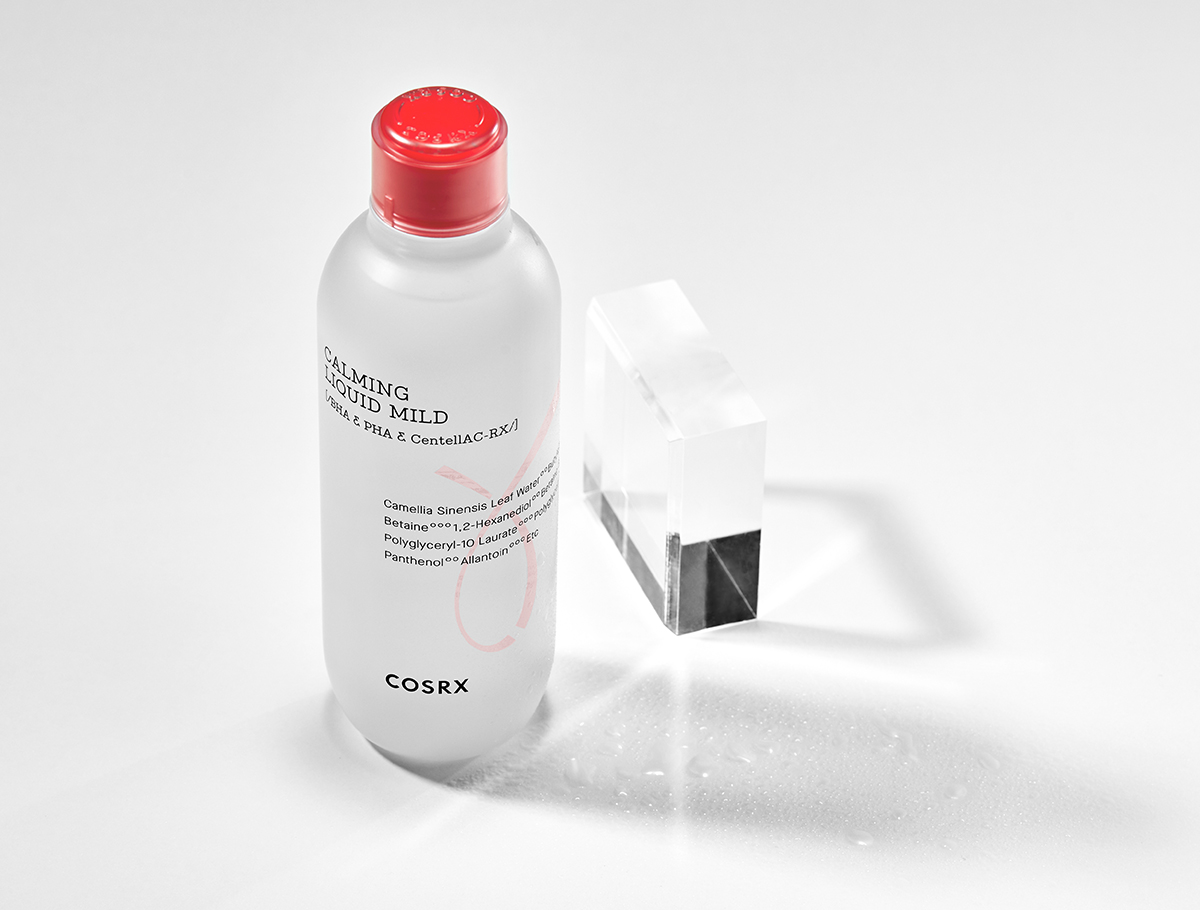 센자극으로 성난 피부, 순하게 잠재우는 순한 처방 산뜻 저자극 데일리 에센스 리퀴드!


AC LIQUID MILD ESSENCE
#고민피부케어 #피부각질케어 #피부진정
에센스처럼 깊이 있고 스킨처럼 순하고 산뜻한 리퀴드 제형
성분 및 효능 [/main ingredients/]
#고민 피부 케어
다이메틸설폰 유효 성분이 고민 피부 케어

#마일드 각질 케어
0.2% BHA 성분과 0.2% PHA성분으로 순하게 각질 케어

#AC 맞춤 진정 처방
3가지 맞춤 센텔라 AC-RX 처방과 85.6% 녹차수로 피부 진정 및 피지 케어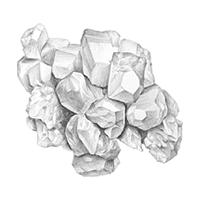 다이메틸설폰 고민 피부 케어

녹차수 진정, 피지케어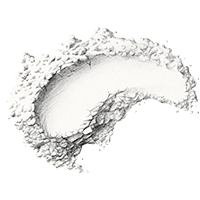 아시아티코사이드,아시아틱애씨드,마데카식애씨드 진정, 보호, 맑음


 

BHA, PHA 각질케어, 모공 케어
제품 사용법 [/how to use/]
화장솜에 리퀴드를 충분히 적셔 고민 피부에 가볍게 두드리며 흡수시키거나 두드려줍니다.

TIP. 센자극으로 성난 피부에 리퀴드 마일드를 충분히적신 솜을 올려 팩처럼 활용하시면 피부 진정, 각질 케어에 도움이 됩니다.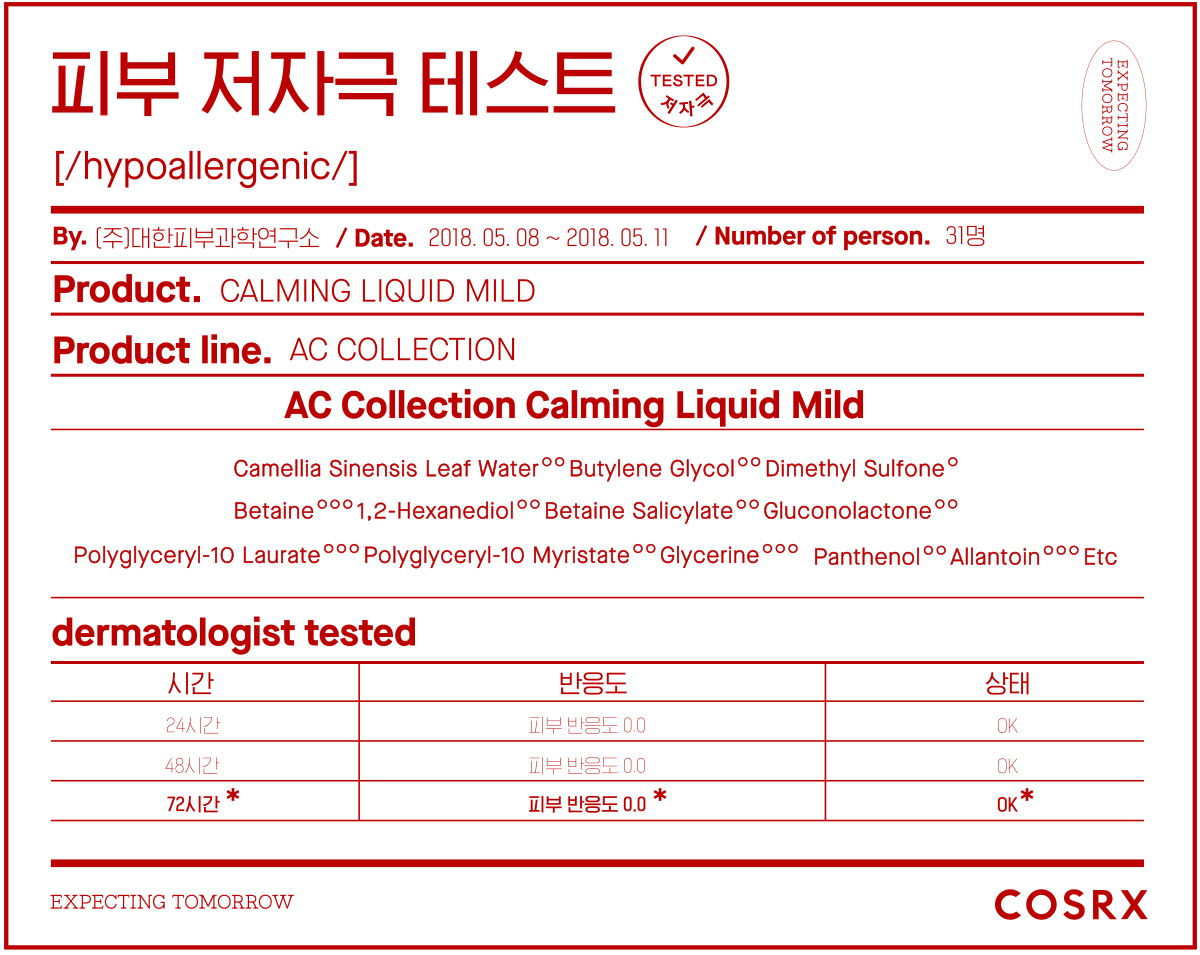 전성분 [/ingredients/]
녹차수, 부틸렌글라이콜, 다이메틸설폰, 베타인, 1,2-헥산다이올, 베타인살리실레이트, 글루코노락톤, 폴리글리세릴-10라우레이트, 폴리글리세릴-10미리스테이트, 글리세린, 판테놀, 알란토인, 알지닌, 소듐하이알루로네이트, 티트리잎오일, 아시아티코사이드, 아시아틱애씨드, 마데카식애씨드, 리모넨

Camellia Sinensis Leaf Water, Butylene Glycol, Dimethyl Sulfone, Betaine, 1,2-Hexanediol, Betaine Salicylate, Gluconolactone, Polyglyceryl-10 Laurate, Polyglyceryl-10 Myristate, Glycerine, Panthenol, Allantoin, Arginine, Sodium Hyaluronate, Melaleuca Alternifolia (Tea Tree) Leaf Oil, Asiaticoside, Asiatic Acid, Madecassic Acid